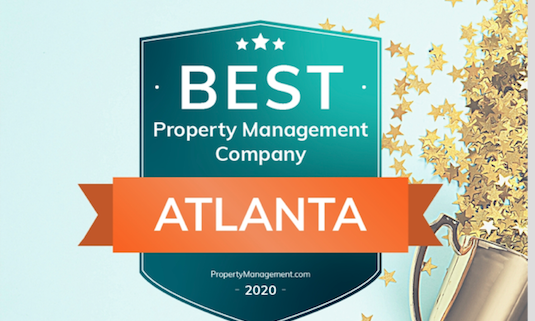 We are proud to announce that Property Management.com has named Sovereign Realty & Management as one of the multi-year winners for the Best Property Management Companies Award.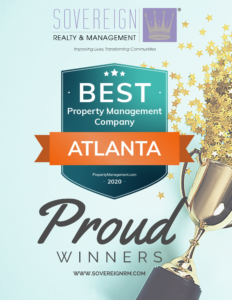 This recognition is given each year to property management companies that have consistently shown exceptional performance.
Selection to the 2020 Best Property Management Companies List was based on the following criteria:
Reputation
      A history of great customer reviews and outstanding service. 
Credibility
      Building customer confidence with licensing, accreditations, and awards.
Experience
      Masters of their craft, based on years of practical experience and education.
Professionalism
      Providing service with honesty, reliability, and respect.
Research showed that at Sovereign Realty & Management we continue to provide our clients with a level of value and service that shows we truly understand that we are the steward of their investment. 
We are honored to be on the Top 30 out of the 327 property management companies that were evaluated this year. And it is very important for us to share this exciting news because we love to see that the amount of effort we put into our business is recognized not only as an important member of the industry but as one of the best!
This is proof of our focus on developing and implementing best practices to shape and define the future of property management.
Check it out here: Best Property Management Companies Award
About Property Management.com
Property Management.com connects property owners with the best property management company to ensure the client's investments continue to flourish. They score property management companies on over 30 different variables to provide a hand-picked list of the best property management companies in the Atlanta, GA area.
About Sovereign Realty & Management
Sovereign Realty & Management is a full-service real estate & property management company specializing in the management of single-family homes, multi-family residences, condominiums, townhouses, and boutique apartment communities.
https://www.sovereignrm.com/wp-content/uploads/2020/08/Captura-de-pantalla-2020-08-18-a-las-11.20.35-a.-m..png
338
535
Sovereign Realty & Management
https://www.sovereignrm.com/wp-content/uploads/2021/03/Sovereign-Realty-Management-Logo-A13.png
Sovereign Realty & Management
2020-08-18 16:22:08
2020-08-18 16:22:08
Sovereign Realty & Management Featured as Multi-Year Winner of the Best Property Management Companies in Atlanta for 2020