Th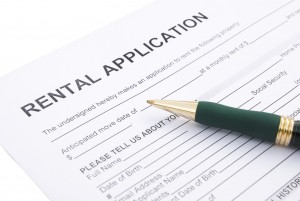 ere are ways to determine if a prospective tenant is going to be a good fit for your property. Everyone that shows interest in your property won't fit your qualifications and it's good to set up a system to help you pick the duds out with relative ease saving you time and money. Check out the following screening tools that can help you pick the best applicant for your property:
Credit History: Does your applicant pay their bills? Are they responsible and fiscally fit? As a Property Investor you want to take notice of your applicant's FICO score and their financial background. Having an established credit history is one of the easiest ways to see the character of your potential tenant.  Some applicants are still marked with the strain of our last economic recession, so credit may not be the end all be all if their score is less than desirable. You may need to take a closer look at their income, criminal record and rental history.
Income Verification: Can your applicant afford to live in one of your properties? The best way to find out this information is through income verification. The quickest and easiest way to gather this information is to ask your applicant to include their 2 most recent paycheck stubs in their application. The check stub quickly verifies employment and income. If your applicant is a business owner or contractor ask them to submit their most recent tax records or bank statements to verify income. Ideally, the applicant should make 3 times the monthly rent in gross income.
National Criminal History: It's important to know if your prospective tenant has a colorful background. Can your applicant live close to children? It is imperative that you do your research because repeat offenders of heinous crimes are renting properties too! Depending on the offense it can greatly impact your property.
Eviction & Rental History: Some people won't pay all their bills on time but they will always pay their rent. If your applicant has a history of evictions or dispossessory warrant filings; it might give you a reason to PAUSE on leasing that applicant. Who wants to rent to an applicant with a history of evictions on their permanent record? Think twice because the eviction process can be long and costly along with the rental income loss.
Interview the Prospective Tenant: Sometimes the best way to see if a tenant is going to be a good fit is to ask them questions. This is often completed up front and by phone so you are not wasting your time physically showing a prospect who doesn't meet you qualification standards for that property. It is important to have the same qualifying standard questions for all prospects so you are not accused of discrimination.  Be sure not ask questions that are a Fair Housing Violation.  For example:
Why are you moving?
What is your desired Move In date?
Do you have pets? Breed? Weight? Indoor? Outdoor?
What is your monthly income?
Can you provide references from your previous landlord or employer?
We suggest you screen all of your prospective tenants and pay close attention to the details.  These five tips can help you find a good fit for your properties.
To learn more about property management, be sure to follow us on Linked In, Facebook, Twitter, Instagram!
https://www.sovereignrm.com/wp-content/uploads/2015/02/iStock_000026363380Medium.jpg
1133
1694
Karen Hatcher
https://www.sovereignrm.com/wp-content/uploads/2021/03/Sovereign-Realty-Management-Logo-A13.png
Karen Hatcher
2015-02-04 18:32:26
2015-02-04 18:34:00
5 Ways to Screen Prospective Tenants